Gray's Tree Service is a Certified and Licensed Pesticide Applicator
---
Owner Alan Gray is a licensed pesticide applicator in the State of Virginia and certified in integrated pest management. We currently specialize in Emerald Ash Borer treatment.
Gray's Tree Service Treats
for Emerald Ash Borer
---
The Emerald ash borer (EAB), [Agrilus planipennis Fairmaire], is an exotic beetle that was first found in the U.S. near Detroit, MI in the summer of 2002.
The adult beetles like to munch on ash tree leaves but cause very little damage. The ash borer larvae (the immature stage) feed on the inner bark of ash trees, which is a detriment to the tree's ability to move water and nutrients. It's thought that the Emerald ash borer arrived in the United States on solid wood packing material in cargo ships or by air from its native continent of Asia.
The beetle is also established in Windsor, Ontario, was found in Ohio in 2003, northern Indiana in 2004, northern Illinois and Maryland in 2006, western Pennsylvania and West Virginia in 2007, Wisconsin, Missouri and Virginia in the summer of 2008, Minnesota, New York, Kentucky in the spring of 2009, Iowa in the spring of 2010, Tennessee in the summer of 2010, Connecticut, Kansas, and Massachusetts in the summer of 2012, New Hampshire in the spring of 2013, North Carolina and Georgia in the summer of 2013, Colorado in the fall of 2013, New Jersey in the spring of 2014, Arkansas in the summer of 2014, Louisiana in the winter of 2015, Texas in the spring of 2016, and Nebraska in the summer of 2016.
Since being found, the borer has:
Decimated hundreds of millions of ash trees in North America.
Led to regulatory agencies enforcing quarantines and implementing fines to prevent possibly infested ash trees, logs or hardwood firewood from moving.
Cost municipalities, property owners, nursery operators and forest products industries hundreds of millions of dollars.
We Also Treat for:
---
Connector.

Connector.

White Pine Weevil

Connector.

Connector.

Lesser Peach Borer

Connector.

Connector.

Purple Leaf Plum Borer
---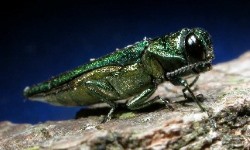 The Emerald Ash Borer Adult Beetle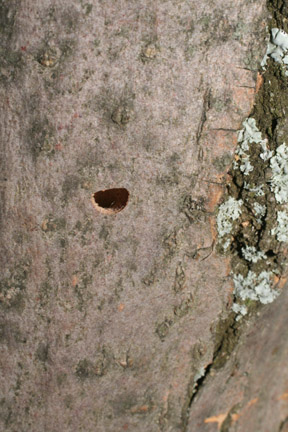 The Exit Hole of Emerald Ash Borer Larvae
Concerned About the Emerald Ash Borer?
Contact Gray's Tree Service!
Click Here